2018 is here - it's been cold and snowy. We are ready for spring.
​It's been cold and snowy here in Illinois. Several days of -15 degrees!
Four weeks in a row of snow on the ground for most of the weeks.
And having to go put out hay for the animals throughout all of this.

​Needless to say, we are looking forward to spring! The animals get so frisky, bounding around like dogs once the weather turns warm. The grass starts to grow again. The babies are born in May and June, and we're back at the Urbana Market at the Square the first weekend in May, as well.

We are looking forward to another exciting year of providing you with some great bison meat! (We still have certain cuts in-stock. Call and ask.)
---
Looking for bison meat in Illinois? Look no further than Ruhter Bison!
Ruhter Bison is a family-owned small business in East-Central Illinois, serving the greater Champaign-Urbana area with the best bison (sometimes called buffalo) meat in town.

Our bison are grass-fed, pastured, hormone-free, antibiotic-free, sustainably grown, happy bison. When processed, they become some of the tastiest, healthiest red meat available. All meat is USDA and/or Illinois inspected.
---
Which cut do I get? How do I properly cook bison?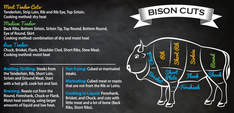 What's the difference between a great bison meal, and a terrible one? How it was cooked! Overcooked bison is tough bison. Bison cooked correctly is delicious and tender bison. Check out the National Bison Association's page on how to properly cook bison meat so you will thoroughly enjoy it!

But which cut should you get? We often have customers ask for suggestions on which cuts to get.
The infographic has some great information on the different cuts and the best cooking methods for each.
---
We also have some basic cooking instructions and a few recipes posted on our
Recipes & Cooking Tips
page. And keep an eye out at the farmer's market beginning in May. We are going to have at least a few new offerings to help you enjoy your bison meat even more!
---
The benefits of bison: Good for You, the Environment, and the Bison!
(Click the pictures to read the accompanying articles)
---
Ruhter Bison has a new Facebook link.
Our Facebook page link is a bit lengthy, with a long series of numbers in it. So, we've made you a shortcut! www.tinyurl.com/RuhterBison That will take you directly to our Facebook page, so you can be sure to "Like" us and get all the latest Ruhter Bison info in your newsfeed!