Bison meat: Low & Slow!
Bison meat is an incredibly low-fat red meat. (Did you see the nutritional comparisons on the home page?!?)

So, along with a healthier meal, what does this mean for you? It means it's easy to over-cook bison. And over-cooked bison turns tough and not-so-tasty. And we don't want this to happen to you. So here are some of the easiest cooking tips we can give you: Low & Slow.

*Making burgers? Turn the heat down, turn the patties often, and only cook to medium or medium-well.
*Frying up ground meat for chili, tacos, spaghetti, etc? Set your heat to low or medium-low, and stir often. There will be very little fat in the pan. You may even want to add a teaspoon or so of olive oil to the pan to prevent burning.
*Steaks or roasts? Turn the heat down and provide a moisture source. Crockpots provide a good means of cooking roasts. A frozen roast can be put on low all day and will be tender and juicy by dinner time.. Especially if you add a broth or wine to the crockpot.

With little fat to insulate the meat, it cooks quickly. So to get the best out of your meat, make sure to cook it to where it will be perfectly delicious!

Look for more tasty recipes in the near future! And remember, if you ever have any questions or concerns, you can chat with us at the market, contact us at david.ruhter@ruhterbison.com or you can call and we'll be happy to help you.
---
Rustic Bison Chili (as featured at the Harvest Market BIG FEED event)
Ingredients:
1 lb of Ground Bison from Ruhter Bison
2-3 Tbsp chili powder
2 tsp cocoa powder
2 tsp salt
1 tsp dried leaf oregano, crushed
1 tsp ground cinnamon
1 tsp ground cumin
1/2 tsp ground black pepper
1/4 tsp ground allspice
*1/4 tsp garlic powder OR 2 cloves garlic, minced
1 cup chopped onion
1 cup chopped bell pepper
2 cans (14 1/2 oz each) diced tomatoes and juice
2 cans (8 oz each) tomato sauce
1 can (15 oz) small pinto beans, rinsed and drained
​1 can (15 oz) white or black beans, rinsed and drained


Preparation:

Coat surface of large pan or stock pot with non-stick cooking spray. Saute bison for 3 minutes, or until just slightly pink, stirring to crumble. Add onion and *garlic, saute 5 more minutes.

Mix in bell pepper and remaining spices. Cook 2 minutes. Add tomatoes, tomato sauce, and beans.

Stir to blend and simmer for 45-60 minutes. Add water if needed to get your preferred consistency. You may also try adding pasta during the last 10 minutes to make a chili-mac type meal.

Serve with condiments such as sour cream, cilantro, crackers or cheese if desired. ENJOY!

*If using minced garlic, add it with the onion. If using powdered garlic, add it to the other spices.

Bison Tacos with Homemade Taco Seasoning (also featured at the BIG FEED)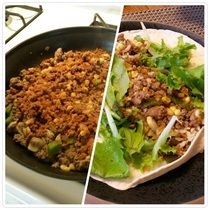 Bison tacos made with this homemade taco seasoning are SO GOOD, and completely free of artificial preservatives and extra salt. (Don't let all the fake stuff in the store-bought taco seasoning ruin your healthy, delicious bison meat.)

Take some ground meat from Ruhter Bison, add some home-made taco seasoning, some onions, peppers, and corn. Add a little salsa, cheese, rice and lettuce. Yum!

Taco Seasoning 2 tsp chili powder
1 tsp onion powder 3/4 tsp garlic powder
1 1/2 tsp paprika 1/2 tsp sea salt
1 1/2 tsp ground cumin 1/4 tsp cayenne pepper


---
Fry up 1 lb of ground meat from Ruhter Bison until just no longer pink. Remember: Low & Slow, and stir often! Drain any fat that may be in the pan.
Add 1/4 cup of water, and your favorite taco add-ins. 1/4 - 1/2 cup of corn, chopped onions, chopped red/green peppers, diced tomatoes, etc. all work well.
Sprinkle taco seasoning across ingredients and stir. Simmer on low for 1 to 2 minutes to heat up add-ins. Serve on taco shells with salsa, rice, cheese, lettuce, etc.
Enjoy the best-tasting tacos you've likely ever had!

Tip: Double or triple the seasoning recipe; store in an air-tight container to keep handy for your future taco nights. Saves measuring ingredients as often. (Check back in March - we may have a surprise to help you with all your taco seasoning needs. Hint, hint! :o)
---
Bison Zucchini Burgers
Our friends at Urbana's Market at the Square and WCIA partnered together to make this great Bison Zucchini Burger Recipe. The recipe cards can be downloaded by clicking on the pictures. We hope you enjoy this unique take on a classic! These are absolutely delicious!
---
Bison Meatloaf Muffins. AKA Saucy Bison Balls
Another really good recipe to satisfy even the pickiest of eaters!

For Meatloaf:

Combine
1 1/2 slices white bread, torn to small pieces
3/8 c milk
1 egg, beaten
1 lb ground bison from Ruhter Bison
1/4 - 1/3 c onion, diced small
1/4 - 1/3 c tomato, diced small
1/8 c minced fresh parsley (optional)
1 Tbsp Worcestershire sauce
1/2 Tbsp garlic, minced
1/2 Tbsp (kosher) salt
1 tsp black pepper

---
· Preheat oven to 400°F.
· Combine all ingredients for topping sauce and set aside.
· Combine bread, milk & eggs in large bowl; mash to paste consistency.
· Add remaining ingredients and mix just until blended.
· Portion mixture into a muffin tin (about 8 or 9), allow room on sides for sauce, then top each with 1 Tbsp topping sauce. Place muffin tin on a large cookie sheet (or a cookie sheet on the bottom rack, to catch any spilled sauce); roast until cooked through, 25-30 min.
· Serve with sweet potatoes or mashed potatoes and your favorite vegetables. Serves 2-4 depending on how hungry you are!

Adapted from a recipe by www.cuisineathomespecials.com. Ground Bison substituted for ground chuck.

---
Crockpot Bison Chuck Roast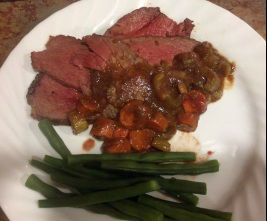 Here's an easy way to prepare a delicious bison meal even using a large *frozen* bison chuck roast! Cook 3-4 lb bison chuck roast (frozen) with approximately 4 large chopped carrots (fresh) and 4 large stalks of celery in a crockpot on high for approximately 3 hrs. If preferred, potatoes cut into roughly 1-in cubes can be substituted for a veggie or simply added. Veggies can be placed either underneath the chuck roast or around the sides if the size of your crockpot allows. Use your favorite pot roast spices or a single bag of McCormick Pot Roast Seasoning (available at most any grocery store!). Measure internal temperature periodically with a meat thermometer to ensure it reaches a minimum of ~140 degrees F (should not exceed ~160 degrees F!). Because crockpots and chuck roast weight may vary slightly you may need to cook longer than 3 hrs. If necessary, cook longer than 3 hrs to ensure an internal temperature of at least ~140 degrees F. Center will be medium rare, next medium, followed by medium-well towards the outside of the chuck roast. Steam fresh green beans separately to avoid overcooking. Thinly slice the meat for maximum tenderness. Spoon ample Au jus from the crock pot over the meat and veggies, and serve!
---
---